PRODUCTS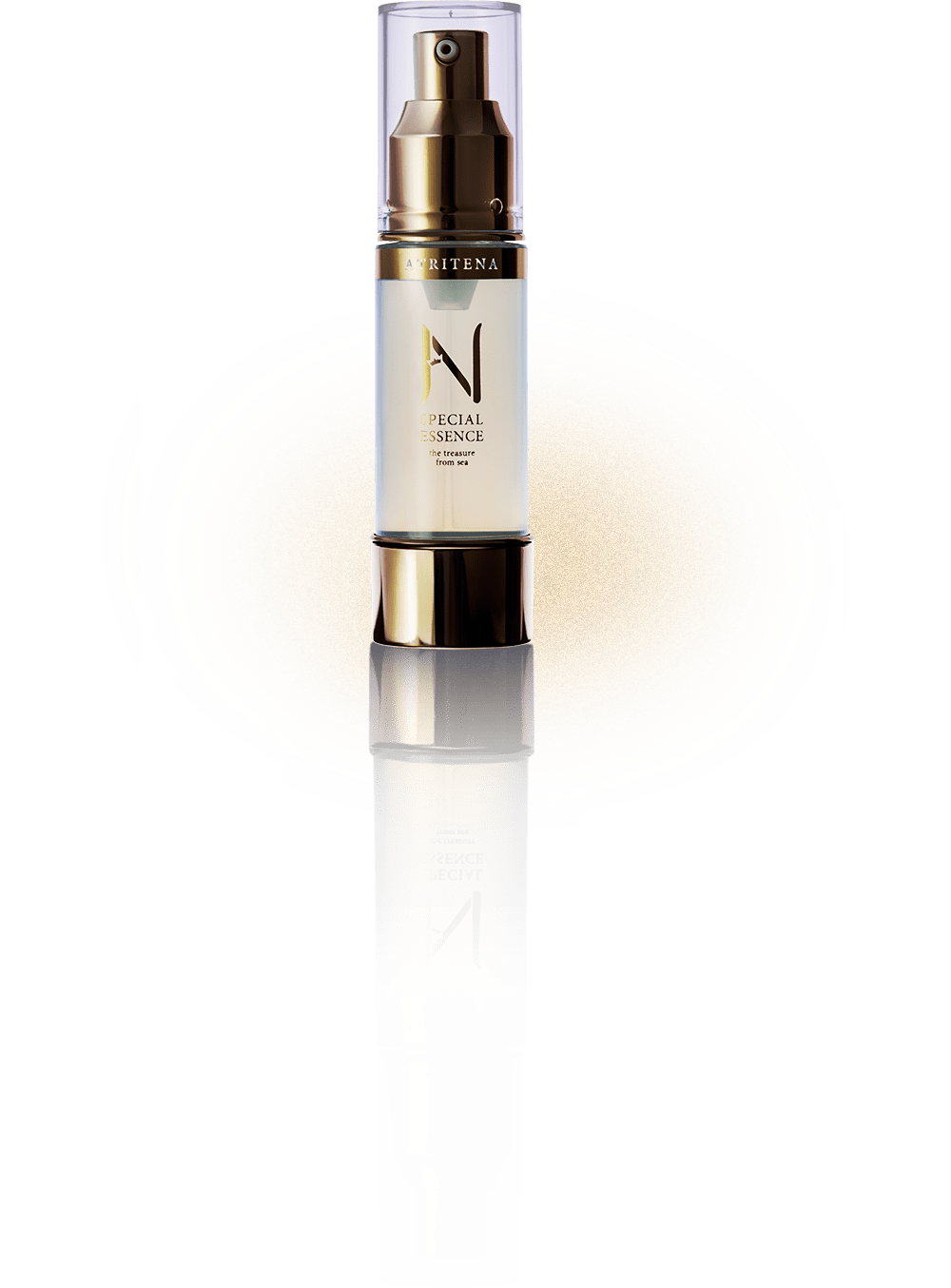 Special Essence
[Serum]
10,000JPY /30ml
Quickly affected, and gives you an impression
This is a multi-functional face lifting serum that delivers active ingredients into your dermis and makes your skin youthful.
Products features

This is a serum contains High concentrating proteoglycan of 99% high purity.
To influence on your body metabolism and improve the unhealthy condition of turnover of skin corneum and improve the aging of the skin.
The attribute of this serum is that has high moisturizing power and revitalize to generate collagen and hyaluronic acid.
Cosmetic containing organic EGF effective in regeneration of skin tissue.
To excellent wrinkle preventing effect, wrinkle improving effect, spot preventing effect, the effect of adding firmness to the skin, effect of adjusting skin texture to young skin.
* paraben, alcohol, mineral oil, coloring agent and petroleum-based surfactant are not contained.

Directions for use

After preparing your skin with lotion, then take an appropriate amount in your hand, gently pat over your face.
We recommend you in applying the lotion on your skin again after using this serum because proteoglycan has high water holding capacity and absorb a lot of water.
Taking this serum repeatedly for spots you are warried about.

Ingredients

Water, Soluble proteoglycan, BG, Phenoxyethanol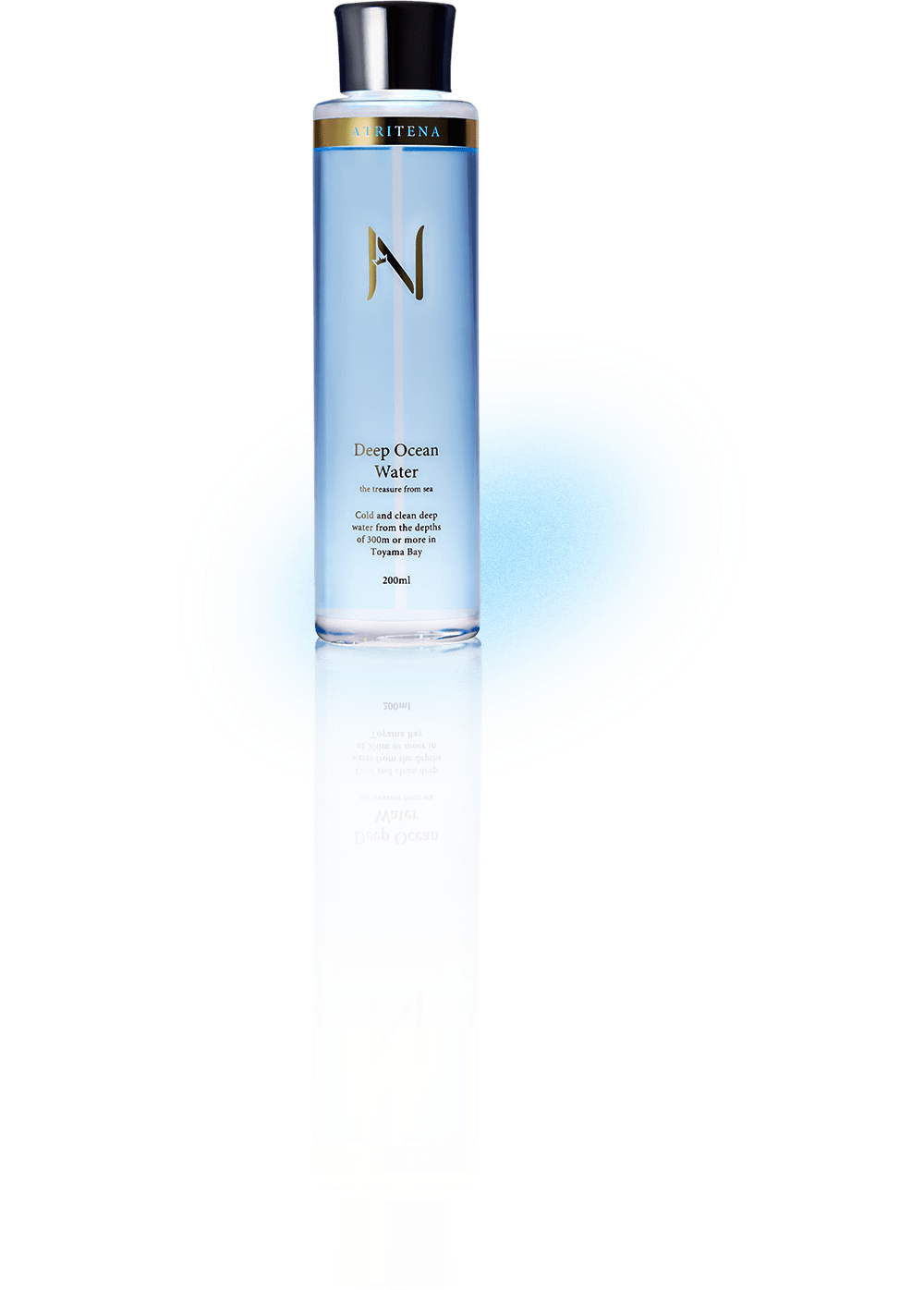 Deep Ocean Water
[Lotion]
4,000JPY /200ml
Revive your skin with the blessings of nature
It is a lotion containing plenty of natural minerals and refreshing texture used deep sea water sampled from the depth of 300 m or more in Toyama Bay
Product Features

I made it smooth and gentle texture so that there is no stickiness and irritation peculiar to sea water.
The mineral component plentifully contained in the deep-sea water prevents skin troubles that may occur due to lack of minerals.
Because deep sea water has almost the same mineral composition as human body fluid, it has characteristics that are easily absorbed by the body and skin. The skin familiarity is good, and the active ingredient is delivered firmly to the back.
It promotes excretion of melanin pigment, it can expect improvement of spot prevention and spots.

Directions for use

Take an appropriate amount in the palm of your hand, let it fit the whole face.
Press the skin gently with the whole palm. Active ingredients firmly penetrate the skin.

Ingredients

Sea Water, Water, BG, Glycerin, Phenoxyethanol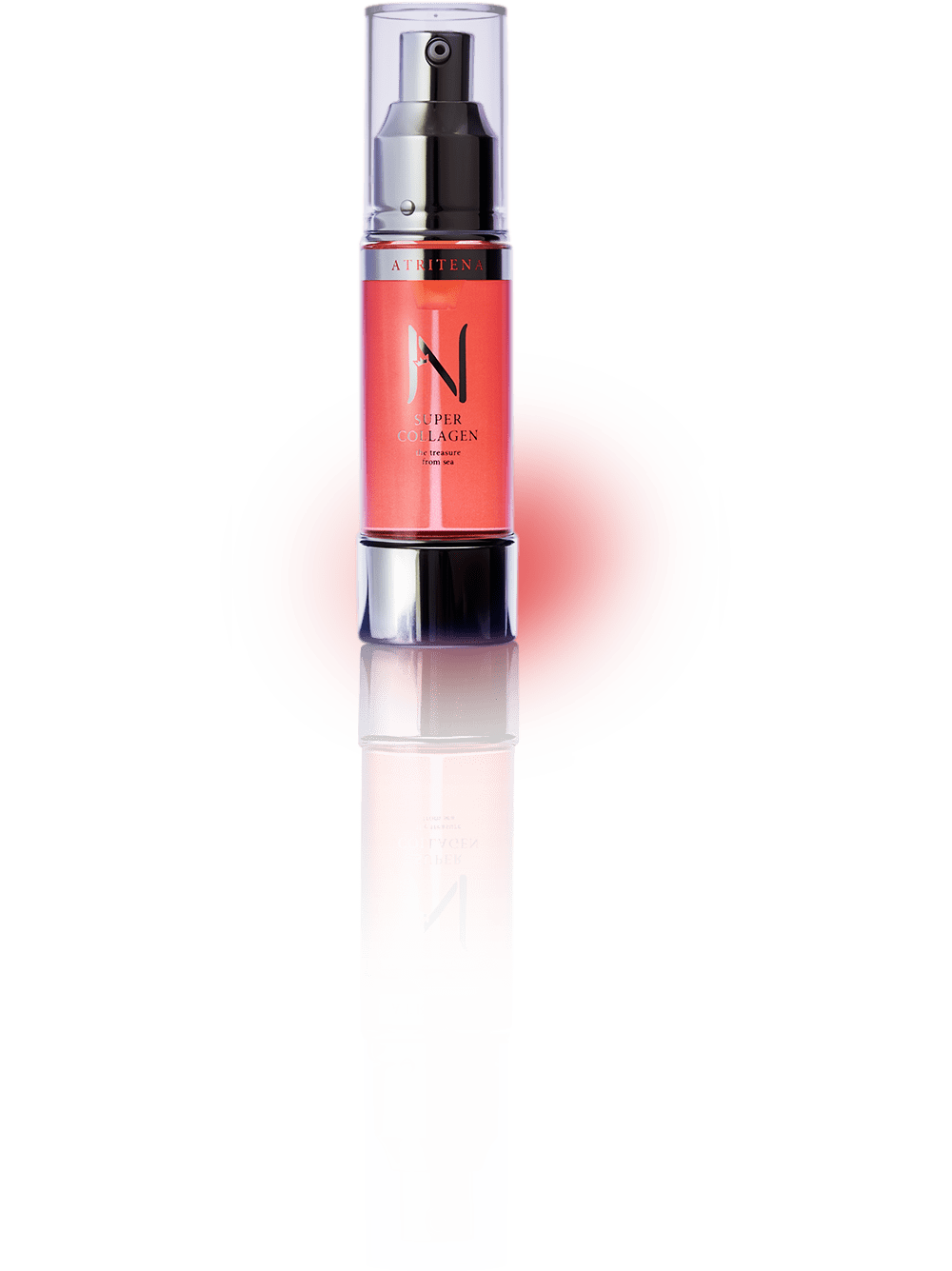 Super Collagen
[Serum]
8,000JPY /30ml
The skin shines with youthful
Raw collagen with the same triple helical structure as the skin gives elasticity to the skin, Nano collagen penetrates deep into the stratum corneum and brings firmness from the inside of the skin.
product features

This serum is made from best quality of Tuna and Red snapper
It is excellent in absorbing power to the skin, it is also expected to improve the moisture and generation of the elasticity.
To use raw collagen with triple‐helical structure and Nano collagen which is molar weight less than 400, this serum can bring you moisture from the surface to horny layer.
It wraps the skin surface with a melting texture and make the skin which is flirting with firmness.

Directions for use

After preparing your skin with lotion, then take an appropriate amount in your hand, gently pat over your face.

Ingredients

Water, BG, Hydrolyzed collagen, Water-soluble collagen, Phenoxyethanol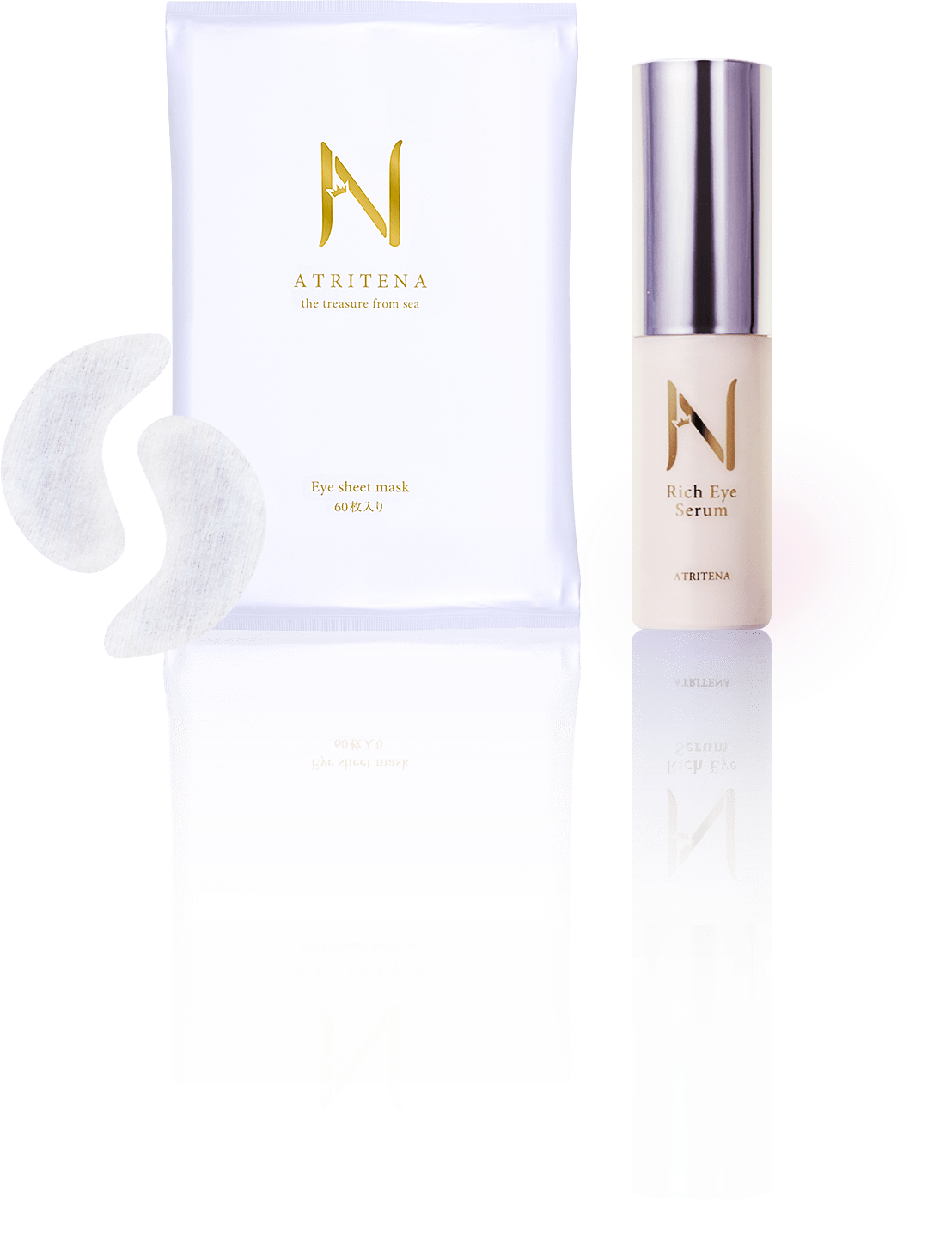 Eye Care Coffret
[Eye zone serum + Eye sheet mask]
6,500JPY /20ml (eye zone serum) + 60 sheets (eye sheet mask)
For best pleasure to your eye zone
Your skin can feel the difference with ATRITENA. For the eyes with youthful bright attraction.
Products features

Rich eye serum

Main ingredient is high concentrate SYN-AKE, it can help to improve any skin troubles such as wrinkles and sag.

Eye sheet mask

SYN-AKE collaborated with colloidal platinum and fullerene can solves any skin troubles.
Power of Proteoglycan with high water holding capacity provides excellent dampish feeling and having a moist feeling lasting over a long period of time.
To obtain organic rosemary leaf oil can improve lymph flow and bring you a brighter and no dullness eyes.

Directions for use

After a face wash, first you prepare your skin with lotion, then take an appropriate amount in your hand, gently pat over your eyes.
From the top of the eyes where the rich eye serum became familiar, attach the sheet mask directly and let it close.
Take off the eye sheet after about 10-15 minutes.

Ingredients

Rich Eye Serum

Water, BG, Glycerin, Dipeptide Diaminobutyroyl Benzylamide Diacetate, PG, 1,2-Hexanediol, Phenoxyethanol

Eye Sheet Mask

Water, Propanediol, Glycerin, Sodium PCA, Methyl Gluceth-10, Dipeptide Diaminobutyroyl Benzylamide Diacetate, Fullerene, Soluble Proteoglycan, Colloidal Platinum, Sea Water, Sodium Hyaluronate, Hydrolyzed Hyaluronic Acid, Soluble Collagen, Hydrolyzed Collagen, Allantoin, Tamarindus Indica Seed Gum, Xanthan Gum, Polysorbate 80, PVP, PEG-20 Sorbitan Cocoate, Citric Acid, Sodium Citrate, Sodium Anisate, BG, Pentylene Glycol, Ethylhexylglycerin, Rosemary Leaf Oil